Eating should be joyful and pleasurable, but it can also be frustrating and confusing. Take the online pledge to take the fight out of food. Find accurate information to help you make better decisions about food and take the fight out of your food struggles.
Did you know that almost half of Canadians (49%) get their food and nutrition information from the Internet, social media or blogs? Unfortunately, not all online information can be trusted. Here's how to spot the most credible nutrition info.

1. Talk to a dietitian – the most credible food and nutrition experts. According to the Canadian Foundation for Dietetic Research, Tracking Nutrition Trends 2015 report, only 20% of Canadians get their information from a dietitian. Yet, most Canadians (88%) say dietitians are credible sources of information. Contact us with your food and nutrition questions.

2. Ask questions. Evaluate online nutrition advice by asking:
• Who runs the website?
• Is the website trying to sell something?
• Does it sound too good to be true?
• Where does the information come from?
• Is the information based on more than one clinical study?
• Was the study done in animals or humans?
• Was the information / study reviewed by an editorial board?

3. Go to these trusted websites. Some of our favourite information sources are:
• Weiler Nutrition Communications Inc.
• Nutrition Solutions Inc.
• Dietitians of Canada
• Eat Right Ontario
• Healthy Canadians

4. Look for the Dietitians of Canada Member Blog badge. We've met the blog criteria from our professional organization, and are proud to share our expert, credible, evidence-based insights!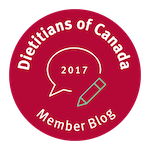 This post has been adapted from Dietitians of Canada's Nutrition Month campaign materials. Find more information about Nutrition Month at www.NutritionMonth2017.ca