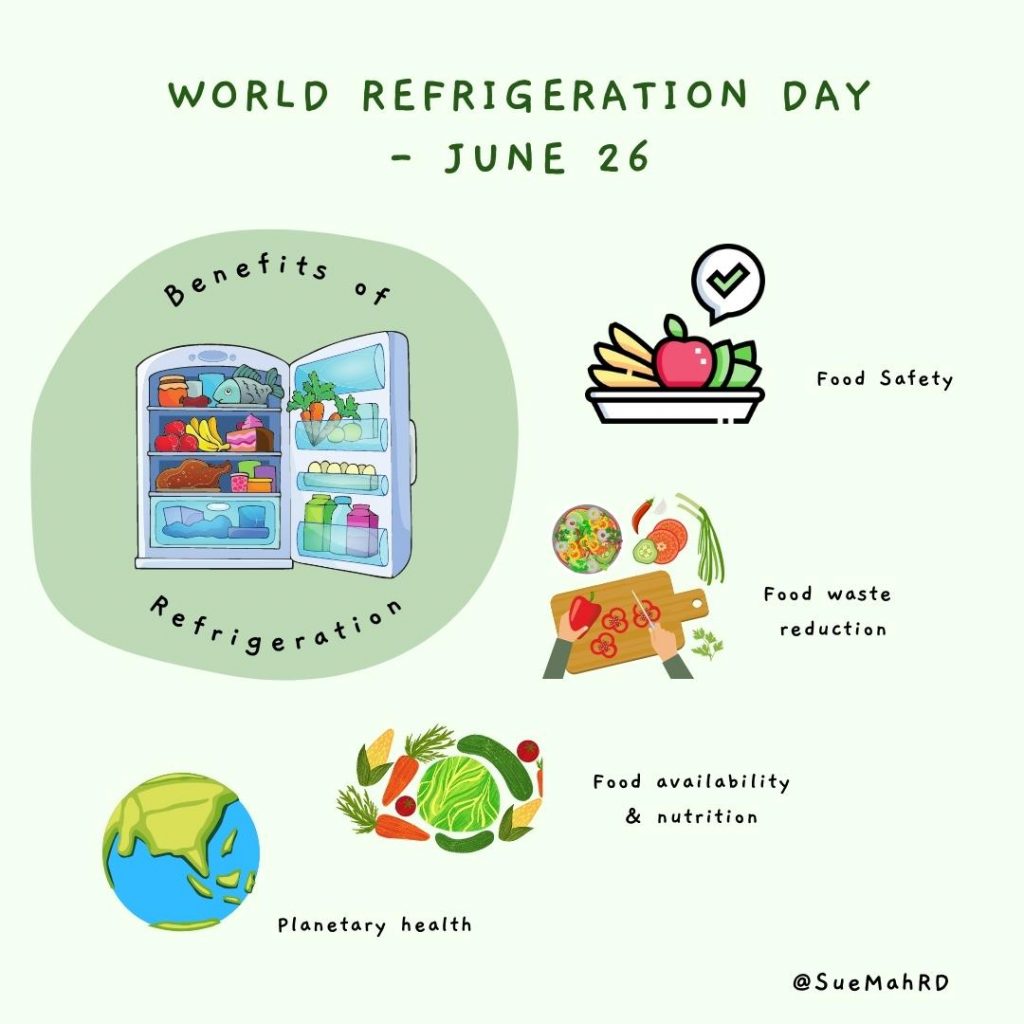 Did you know that June 26 is World Refrigeration Day?
Refrigeration is one of the most important engineering initiatives of the last century and is at the very heart of modern day life. Just think of the many ways in which this technology improves our lives:
Food safety: Bacteria can grow quickly in food at temperatures between 4°C to 60°C, potentially causing foodborne illness. But the cooling provided by refrigerators and freezers in our homes, restaurants and retailers slows bacterial growth, keeping foods safe to eat. Not to mention the cooling technology that allows perishable foods to be harvested and transported to their final destination.
Food waste reduction: One way to reduce food waste at home is to use up leftovers. Thanks to refrigeration and freezing, most cooked meals can keep about 3-4 days in the fridge and between 2-6 months in the freezer. For a detailed guide to storing leftovers, check out Health Canada's info about Leftovers: How Long Will They Last? or this Cold Food Storage Chart.  
Food availability and nutrition: Freezing allows fruits and vegetables to be picked at their peak ripeness and then frozen – often within hours – to lock in maximum nutrition and flavour. When fresh, seasonal produce is not available, frozen is an excellent, nutritious and affordable option. 
Planetary health: Cooling reduces one of the largest contributors to climate change – the emission of greenhouse gases from food that is lost due to spoilage and waste.
Dr. Leslie Oliver (pictured), a member of the HVACR Heritage Centre Founding Committee and his father T.H. (Howard Oliver) were pioneers of early refrigeration in Canada.
The HVACR Heritage Centre is a volunteer driven heritage organization whose mandate is to preserve and record the history of heating, ventilation, air conditioning and refrigeration technologies and how they've changed our lives. Dr. Leslie Oliver, a professional engineer, appraised historic artifacts as well as documented the contributions of the industry's work since its early years. By 1928, his father Howard became one of Canada's first high tech workers in the field of internal combustion, radio and refrigeration. Howard started the family business T.H. Oliver Ltd. which Leslie later took over as Vice President and General Manager. Read the inspiring stories behind cooling technology and its impacts on society at their virtual museum.
Written by Sue Mah, MHSc, RD, PHEc, FDC – Award-winning dietitian and Co-Founder, n4nn