Hands down, the highlight of this year's Delicious Food Show was meeting Celebrity Chef Chuck Hughes! Featuring hundreds of exhibitors, the show was truly a food-lovers' event. Here are a few cool things we tried!
Camelina Oil – Extracted from the Camelina sativa oilseed, camelina oil is about 90% unsaturated fat, with 39% omega-3 fat and 18% omega-6 fat. The oil boasts light, nutty and earthy notes. With a high smoke point of 475°F, camelina oil is versatile and can be used in salads, dips, dressings and marinades as well as cooking.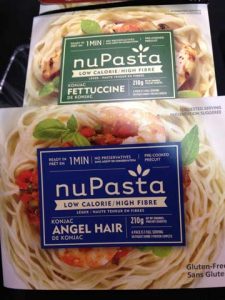 Nu Pasta – This gluten-free pasta is made from the konjac plant. It's a type of tuber plant, which grows on slopes about 600 to 12,000 m above sea level. The root of the konjac plant is dried and milled into a fine flour which is the main ingredient of the pasta. A 210 g package contains: 25 calories, 1 g fat, 0 mg sodium, 6 g carbohydrates, o g sugar, 6 g fibre, and 1 g sugar. We sampled it in a stir-fry with garlic and pine nuts, which was a nice way to perk up the flavour.
Liquid Nitrogen Ice Cream – What do you get when you add milk, cream, sugar and -196°C liquid nitrogen? Ice cream, of course! It's the coolest and coldest way to make ice cream, and it's all ready in less than 60 seconds. Liquid nitrogen is simply the harmless nitrogen gas which has been cooled to such a low temperature that it becomes a liquid. We happily sampled the Pumpkin Spice Ice Cream – it was delicious!